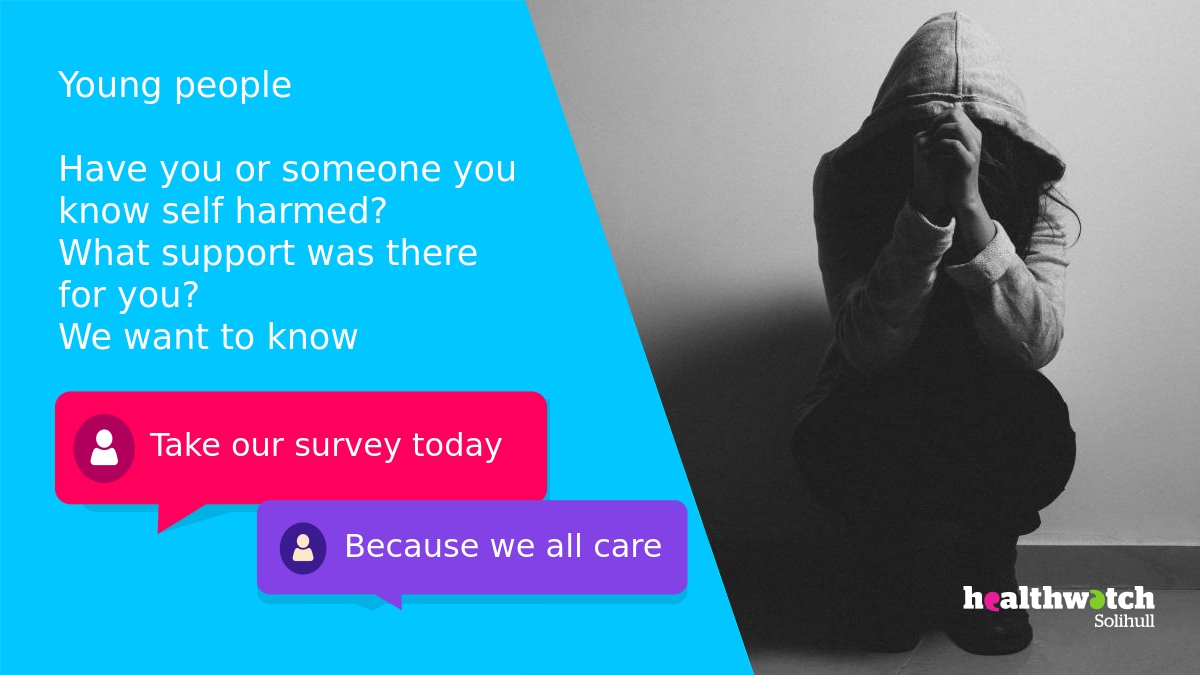 Our investigation "Young People and Self Harm: What support is available and how does it impact young people and their families?" is now live. Have your say now.
January 14, 2022
We want to explore what support is available and if parents and young people are happy with the support they receive. We will be running private interviews, and focusing in on particular stories, using them as case studies so if any parents or young people would be interested in telling their stories we'd love to chat with them.
To have your say quickly and anonymously you can complete our survey here, every piece of feedback counts and will make a difference.
Please share amongst your peers, and families.
If you've been affected by any of the issues raised in this survey, below are a list of organisations that offer advice and support, click on each link for more information.
Local
Provide emotional wellbeing and mental health services for children and young people in Solihull. They provide multi-disciplinary assessment and treatment of children and young people.
In an emergency – If a child's mental state gets worse quickly, and you are worried about their safety, it's important to get help quickly. If a child or young person:
is an imminent risk to themselves or others due to a deterioration in their mental health
has active thoughts and plans of suicide with intent
is severely depressed and in need of crisis assessment and intensive home treatment to prevent admission to hospital
Contact the Solar crisis service who are contactable via 0121 301 2750 (Monday-Friday, 9am-5pm) where you will have  access to a trained clinician  who will assess whether you need to be seen by our Crisis Team. We will advise you what to do next.
Out of hours the crisis team are available for mental health crisis (weekdays 5pm-8pm, weekends 8am-8pm) via Northcroft switchboard 01213015500  – please ask for the Solar Crisis Team. The operator will take the best contact number and then pass it to the staff member on call and they will call you back as soon as possible.
Call 999 or go to A&E now if:
Someone's life is at risk, for example they have serious injuries or have taken an overdose.
Kooth
Online counselling and support for children and young people.
National
Life Signs
Information and support on self-harm in children and young people.
National Self-Harm Network
A forum providing crisis support, resources and advice on dealing with self-harm.
Information for parents and professionals on self-harming behaviour.