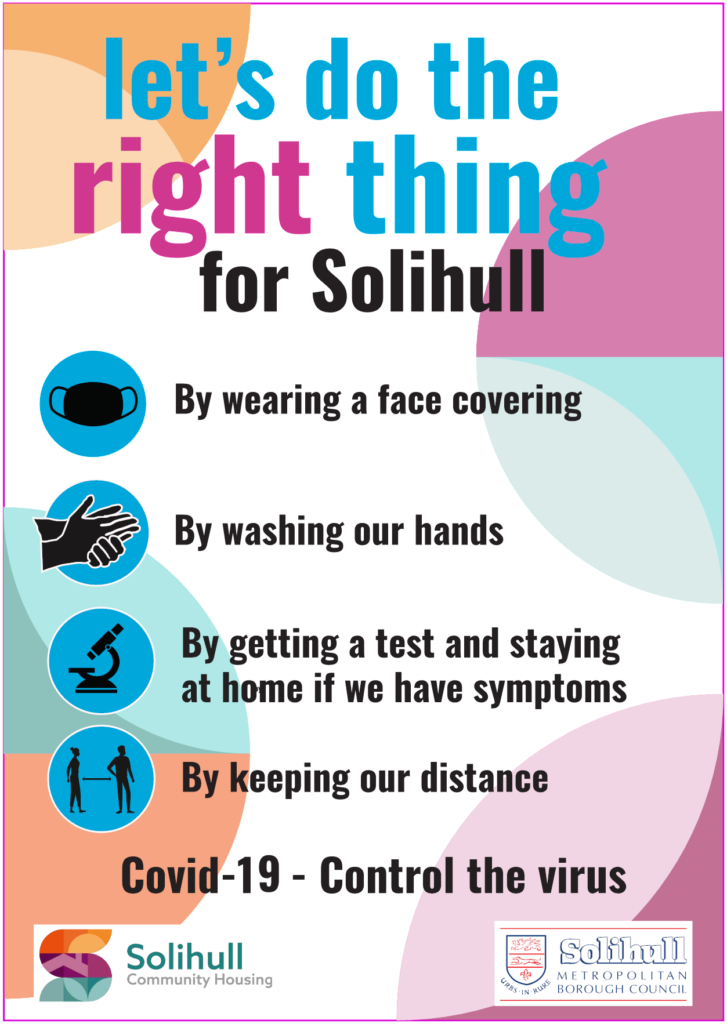 Let's Do the Right Thing for Solihull
September 21, 2020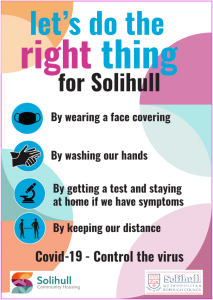 Solihull Council's campaign – 'Let's Do the Right Thing for Solihull' – to make sure people are clear around the guidance for keeping themselves and their communities safe from Covid-19.
Feedback has shown that some people think the pandemic is over. The campaign will ensure that residents are clear about the steps they need to take to keep themselves, their families and the borough safe.
The aim of the campaign is to raise awareness about the simple things people can do to stop the spread of the virus and to bring communities together so they can play a role too.
The message is simple. Everybody needs to play their part and "do the right thing" for themselves, their friends and family, neighbours and their communities.
People still need to regularly wash and sanitise hands, keep a safe social distance of 2 metres wherever possible and wear a face covering where 2 metres isn't possible, or in those locations where this is now mandatory.
Also the message will be reinforced that people must stay home if they are experiencing any of the symptoms of Covid-19 and arrange a test.
Cllr Ian Courts, Leader of Solihull Council, said:
"We want to make sure the guidance is clear and take every step we can to cut down the transfer of this invisible virus.
"Our intelligence shows that people's reactions to the continued relaxation of measures are very different. Some think it's going back to business as usual, hanging out with their friends, spending time with their family, going off to the pub. Others remain very cautious and limit contact with others.
"Let me be absolutely clear – our information shows that this pandemic is not over. As a community, we all have a role to play, to protect each other. We can start to resume many aspects of our normal lives, but we do need to be so careful. We will have to do things differently to how we used to, while the virus is still present and continues to pose a risk.
"'Let's Do the Right Thing' aims to build on the community spirit shown over the past months to work together to control the virus. It's not just about individuals keeping themselves safe, but everyone taking action to stop the spread, helping keep communities safe. This means that people need to take steps to protect family members, but also ensure that they don't spread the virus to others – people they don't know, who may also be at risk.
"Please let's do the right thing for Solihull.
"Make sure you wear a face covering when going shopping, on public transport, in cinemas and other enclosed spaces or where social distancing isn't possible. Continue to wash your hands regularly; stay a safe distance from people that are not in your bubble. If you have symptoms, self-isolate immediately and book a test.
"These are relatively simple steps, but critical to ensure that we stop the spread of the virus and save lives."
To get the message out there and to support Solihull communities, Solihull Council would love to hear from community and faith leaders, community bloggers, youth groups or anyone who works within their community who could help to share the campaign material. Contact us via social media or email comms@solihull.gov.uk.
For the latest advice on coronavirus or for more information on how to book a test visit: www.gov.uk/coronavirus