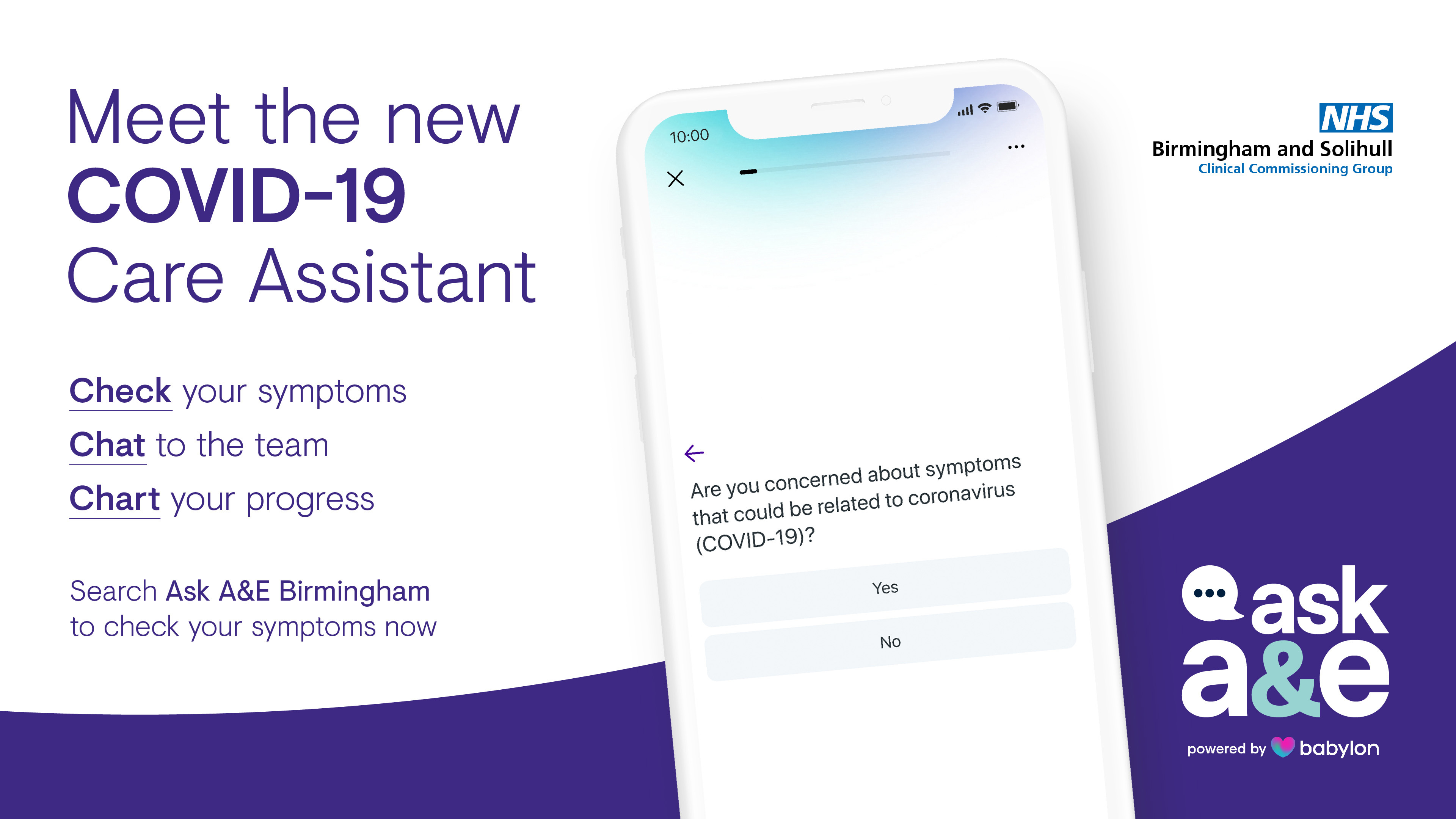 Meet the new COVID-19 Care Assistant
April 20, 2020

Designed by doctors using the latest guidance
The COVID-19 Care Assistant offers free information from NHS doctors and clinicians. You can access it through the University Hospitals of Birmingham website, or by searching for 'Ask A&E Birmingham'. You will then be asked to register for an account.
Here's how it can help you, in four easy steps.
Get the latest information: The COVID-19 Care Assistant gives you continually-updated information about coronavirus. Topics like how to self-isolate and how to take care of someone with coronavirus. Information comes from NHS doctors and Public Health England.
Access a symptom checker and live chat: The symptom checker has the ability to recognise what might be COVID-19 symptoms and suggest possible next steps. You can access the symptom checker (24/7) via the website and use the live chat feature (8am-8pm) to ask questions and receive answers from a member of the team.
Receive a care plan: After you receive information about your symptoms, the COVID-19 Care Assistant will give you a care plan, based on the latest guidance. After downloading the Babylon app and using your existing log in details, you'll get daily notifications to track your symptoms, including your temperature, information for the isolation period and general tips for your physical and mental wellbeing.
Speak to a healthcare expert: The COVID-19 Care Assistant allows you to have a video consultation with a clinician via the website. After you enter your symptoms into the symptom checker, it will indicate possible next steps. But, if you believe you need to speak to a healthcare professional, you can book a video consultation. You can do all of this within the website or by downloading the Babylon app.
Access the COVID-19 Care Assistant here.
Do not use this service during an emergency (emergency services should be contacted instead), or if you are pregnant. Steps 1-3 of Ask A&E's Covid-19 Care Assistant is a general information service. It does not provide medical advice or a diagnosis but will provide you with information and/or possible actions you may take. Depending on the outcome of Steps 1-3, you may be referred for a digital consultation with a local clinician (Step 4).
For more information visit – https://www.birminghamandsolihullccg.nhs.uk/your-health/covid-19-care-assistant