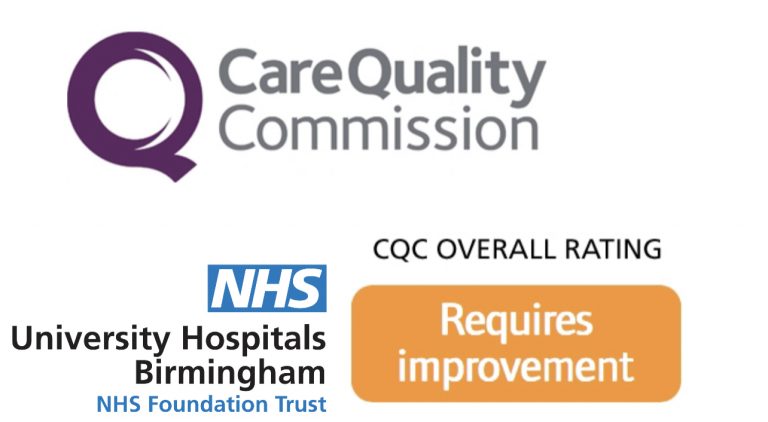 CQC REPORT IS A WAKE-UP CALL FOR UNIVERSITY HOSPITALS BIRMINGHAM LEADERS, SAY HEALTHWATCH BIRMINGHAM AND HEALTHWATCH SOLIHULL
October 8, 2021
Press release: 08/10/21
CQC REPORT IS A WAKE-UP CALL FOR UNIVERSITY HOSPITALS BIRMINGHAM LEADERS, SAY HEALTHWATCH BIRMINGHAM AND HEALTHWATCH SOLIHULL
Healthwatch Birmingham and Healthwatch Solihull have responded to the CQC's (Care Quality Commission) rating of University Hospitals Birmingham NHS Foundation Trust as "Requires Improvement."
Richard Burden, Chair of the patients and public watchdog in Birmingham and Solihull said today:
"This is a very worrying report from the Care Quality Commission, which unfortunately echoes some of the concerns that Healthwatch raised with the Trust back in February following the findings of an earlier CQC inspection in December.
There is no doubt that the Covid pandemic has put hospitals across Birmingham under massive pressure over the past two years and the response of NHS staff has been nothing short of heroic. Both are rightly recognised by the CQC in their latest report.
However, despite these unprecedented demands and the funding constraints it continues to face, urgent improvement is needed from the Trust.
As well as the specific areas of patient care where the CQC identifies change as being required, this report also sounds alarm bells about an organisational culture at the Trust which leaves some staff feeling undervalued together with concerns about a remote management style and lack of transparency at senior executive level.
Healthwatch ourselves have also experienced inconsistency in proactive communication from the Trust on issues such as progress in tackling the waiting list backlog which also given us concern about transparency.
The public have reported concerns to us about long waiting times and unsafe environments across UHB Emergency Departments. The feedback we have had from patients also highlights issues around poor communication, which was a recurring theme in what people told us during research for our recent report 'Experiences of lockdown: Birmingham and Solihull residents' experiences of health and social care during the second national lockdown in England' People are sensitive to the pressures NHS staff are under and they are overwhelmingly appreciative of the care they receive from UHB. But on those occasions when things may go wrong, patients don't always feel they get timely or effective responses via routes like PALS.
So many people across Birmingham, Solihull and beyond owe their lives to the care and expertise of people working across UHB's four hospitals. The Trust should take pride in what they do. But this CQC report must also be a wake-up call for Trust leaders to improve specific areas of care and to address the other concerns that it contains.
Effective and responsive communication with patients, sensitivity to staff concerns and morale, together with proactive transparency with stakeholders' representatives are vital to confidence and any Trust's ability to identify pathways to improvement. We urge the Trust to take on board the messages about organisational culture that come through in this report.
We look forward to meeting with the Trust to discuss their response to this report and to enable them to share with us their action plan to address its recommendations."
For more information please contact Natalie Travers, Healthwatch Solihull Manager on 07368 299 495 or natalie.travers@healthwatchsolihull.org.uk
Natalie Travers said: "We know the pandemic has hit hospital staff hard, and we know many people have positive stories to share about the care they have received. Whether it be good, bad or in-between, we want to hear the views of Solihull residents, have your say on our Feedback Centre here."