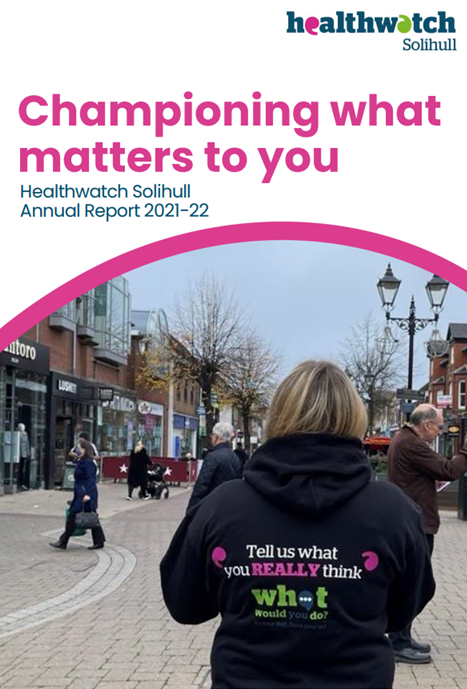 Annual Report 2021-2022
July 1, 2022
Healthwatch Solihull are proud to present our Annual Report for 2021-2022, demonstrating our commitment to tackling health inequalities and our success in improving health and social care services for the people of Solihull.
Over 2,500 people shared their experiences with us during the year, which we used to drive positive changes such as:
Increasing Covid-19 vaccine across the whole of Solihull, including the most deprived areas.

 

Ensuring care home residents were able to feedback on services independently.

Working with Primary Care Networks to ensure information is clear and up to date so that service users can access their services in the best way.
Ensuring fair processes were in place for people accessing telephone GP appointments should patients miss their call.
Giving young people the opportunity to have their voices heard and shape mental health services.
Helping people facing difficult circumstances to access vaccines in ways that suited them.
The report also outlines our top three priorities for the next 12 months:
Use our position on the Birmingham and Solihull ICS to ensure the experiences of local citizens drive the changes needed for improvement
Improving access to primary care and mental health services
Ensuring support for those waiting for treatment
Thank you to everyone helping Healthwatch Solihull in this important work:
People who shared their experiences with us
Health and social care staff providing amazing care under incredible pressure
Commissioners and providers making the improvements people want
Our dedicated staff, board members and volunteers
Voluntary, community and social enterprise organisations helping us hear the views of the people they support