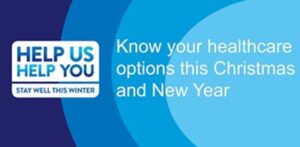 Know your healthcare options this festive season
December 21, 2021
With Christmas just around the corner, local people are being reminded of their healthcare options, should they need medical advice or help.
The NHS is still available to support those who need it.
Some local pharmacies are open throughout the festive season, where you can get quick, confidential advice on lots of common illnesses, as well as over-the-counter medication. You can find out if your local pharmacy is open, and at what time, here. Please do not attend a pharmacy if you have COVID-19 symptoms.
GPs can also offer support outside normal working hours, even over the festive season. If you need a doctor on an evening or weekend, be sure to book your appointment in advance by calling your practice ahead of time for an extended access appointment.
While many people enjoy a break this week, your local NHS is working really hard to help people who need our help. That's why patients should use NHS 111 first to help NHS urgent and emergency care services maintain social distancing and ensure that patients receive the right care in the right place, in a timely and safe way. It is available 24 hours a day, seven days a week. You can call 111 or visit the website 111.nhs.uk
Our information and signposting service will be closed from midday on Friday 24th December, re-opening on Tuesday 4th January 2022. For a response in the new year, a voicemail service will be available for you to leave a message or you can email enquiries@healthwatchsolihull.org.uk.
Our telephone service, 0808 196 3912, is normally available between 9am and 5pm, Monday to Friday.
If you would like to leave feedback about a specific or care service, you are invited to submit a Feedback Centre review via our website.